I've thrown aside my meddling illness and adorned myself with the festive garb of the carnival worker. Yes, friends (and/or foes), I'll be working at the South Carolina State Fair part of next week. Don't worry, they're not letting me operate any heavy equipment. My gig is indoors...I think. I'll make sure to take photos and we'll all enjoy them for years to come. Perhaps I'll pen a song for my future children: "Mommy was a Carnie." All kidding aside, I am excited as I could use the funds and the fair is a big, big deal in these parts. In celebration, I present to you these fine finds from Etsy, all appropriately festive.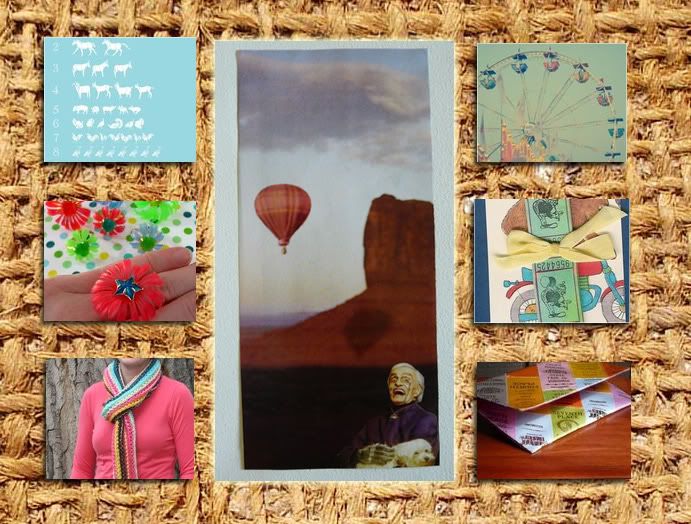 LEFT, TOP DOWN

CENTER

1.
Maniacal Laughter
, $10,
Cance
. We meet again! The truth of the fair is that it can be a sinister place. I have no proof, of course, nothing obtained legally, but...watch your back, my little Cheeto. Fairs bring out creampuffs and crackpots, so play it safe. No lollys from strangers! Special thanks to Kelly of Cance for featuring me on her own fab blog,
Cance Circle
. She's quite the Etsy Vet and has a lovely menagerie of collages, drawings and jewelry. And clearly a girl who understands carnival things...
RIGHT, TOP DOWN

3.
State Fair Ribbon Clutch Bag
, $32,
StateFair
. Perhaps your giant pumpkin didn't land first place, but your handy Maybelline Great Lash mascara can get top billing in this kitsch clutch. After all, I always knew you were a winner.